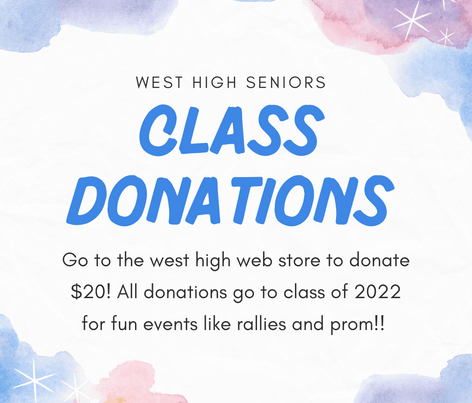 Class Council Member: Jayden Blair
Class Council Member: Cathy Lam
Class Council Member: Aryial Oneal
Class Council Member: Cameron Uszler
Senior Class President: Paige Hamilton
Senior Vice President: Kainani Kia'aina
Senior Historian: Saki Matsumoto
PRICE OF TICKETS!! GET THEM ASAP
Welcome Class of 2022! Stay informed about upcoming class events and fundraisers!
Follow our class instagram @whsclassof_2022 and join remind by texting @2022west to 81010
WEST HIGH SENIORS!!
Make a Class Donation on the West High Webstore! All donations go to the Class of 2022 for fun events like rallies and PROM!
PROM TICKETS ARE ON SALE!!! GO BUY YOUR TICKETS ON ASB WEBSTORE NOW